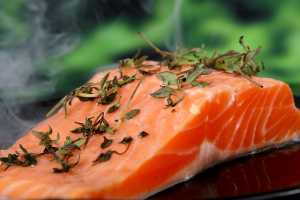 Too many of us are missing out on the health benefits of the omega-3 fatty acids available to us from eating certain types of fish a couple of times a week.  Why are we avoiding fish?  Because many of us are afraid of "eating mercury" in the fish.
It turns out, there is research to show that this is a misconception.  Professor Nick Ralston and his colleagues at the University of North Dakota's Energy and Environmental Research Center have measured and evaluated the molar ratios of selenium in fish to the mercury in fish [Ralston 2007, 2016].
Their studies show that many of the edible ocean fish have an abundance of selenium in relation to mercury.  So, not only are we missing out on the omega-3 fatty acid benefits, we are also missing out on a good source of dietary selenium [Berry 2008].