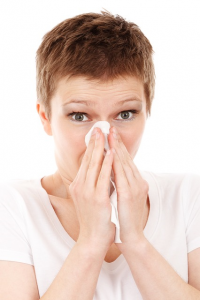 Selenium supplements – especially selenium supplements as a component of a multi-micronutrient cocktail – can help to delay the decline of the immune system and can reduce the risk of death in HIV-infected patients.  Most of the data that we have comes from randomized controlled studies carried out in African countries, but the results are relevant to the United States and Europe.  Moreover, the results from studies of HIV-infected patients speak to the issue of the anti-microbial protection and antioxidant protection that comes with adequate selenium status.
Selenium and HIV and CD4 counts
CD4 cells are white blood cells that are part of the immune system.  Specifically, the CD4 cells fight infections in the body.  The HIV virus kills CD4 cells.  When a person has fewer CD4 cells, he or she is at greater risk of contracting an infection.
Consequently, CD4 cell counts give a good picture of how strong the immune system is.  When CD4 cell counts fall below a certain level in HIV-infected patients, then anti-retroviral therapy is indicated to slow the progression of the HIV infection to the AIDs disease.
The Botswana study: selenium and HIV infection
Professor Marianna K. Baum at Florida International University in Miami studies the relationship of nutrition and metabolism and HIV/AIDS.  In 2013, Professor Baum and her research team reported the results of a randomized controlled study that enrolled 878 HIV-infected patients in Botswana who were not yet on the anti-retroviral therapy.
The data from the study show that 24 months of daily supplementation with selenium and B vitamins and vitamins C and E significantly reduced the risk of immune system decline (as measured by CD4 cell counts) and morbidity. Professor Baum concluded that intervention with selenium and multi-vitamins may be effective if the supplementation is started in the early stages of the HIV disease [Baum 2013].
This is an especially interesting result because it comes from a study of HIV-infected patients who were not yet prescribed the anti-retroviral therapy that delays or prevents the progression of the HIV infection to the AIDS disease.  Please note that Professor Baum's study results were published in the Journal of the American Medical Association (JAMA).
There seems to be a significant relationship among the following variables:
selenium status
HIV infection
CD4 cell counts
the incidence of opportunistic infections [Di Bella]
The Rwanda study: selenium and HIV infection
In 2015, a group of researchers in Rwanda reported the results of a randomized controlled study that replicated the Baum study [Kamwesiga].  The study in Rwanda enrolled 300 participants, 202 of whom were women.  The median age of the study participants was 33.5 years.  The study participants had been diagnosed with HIV infections but still had CD4 cell counts higher than the cut-off point for the initiation of anti-retroviral therapy.
For 24 months, 149 of the study participants received daily supplements of 200 micrograms of a selenium yeast preparation.  The remaining study participants received a placebo.
The selenium supplementation was associated with a statistically significant 44% reduction in the rate of CD4 cell count depletion.  In other words, selenium supplementation delayed the weakening of the patients' immune systems and reduced their susceptibility to opportunistic infections.
The Nigeria study: selenium and HIV infection
In an earlier, smaller study, Nigerian researchers investigated the effect of selenium and aspirin supplementation on CD4 cell counts in HIV-infected patients not yet needing anti-retroviral therapy [Durosinmi].
Six months of a combination therapy with selenium and aspirin and multi-vitamins yielded the following results in the HIV-infected patients:
Higher mean weight following the therapy
Improved quality of life following the therapy
Slightly higher CD4 cell counts following the therapy
The higher CD4 cell counts were not significantly higher, but, please note, the CD4 cell counts did not decline during the six-month supplementation period.  The combination of supplements delayed the weakening of the immune system that HIV infections commonly cause.
Lessons from selenium supplementation of HIV-infected patients
What have we learned from these studies of selenium supplementation of HIV-infected patients?
Selenium deficiency is common among HIV-infected patients.
Selenium deficiency in HIV-infected patients is associated with increased risk of opportunistic infections such as tuberculosis.
Selenium supplementation provides antioxidant protection against the harmful effects of an excess of free radicals, caused by the HIV infection.
Selenium supplementation is associated with the prevention and delay of declines in CD4 cell counts (good CD4 cell counts are an indication of a strong immune system).
Final word on selenium status, CD4 cell count, and infection
Based on the results of an earlier study, Professor Baum and a team of researchers concluded that patients with CD4 cell counts below 200 cells per millimeter cubed and selenium status below 135 micrograms per liter are going to be at significant risk for development of mycobacterial diseases (of which tuberculosis is the best known) [Shor-Posner].
In other words, selenium status has a significant impact on the prevention and delay of the development of dangerous bacterial infections.  Adequate selenium status is necessary for strong immune defense regardless of whether one has HIV or not.
In this report, I have focused on the results from studies of HIV-infected patients not yet on anti-retroviral therapy. In a future report, I want to present the evidence from studies of selenium supplementation of HIV-infected patients who are on the anti-retroviral therapy and on HIV-infected pregnant women.
Sources
Baum, M. K., Campa, A., Lai, S., Sales Martinez, S., Tsalaile, L., Burns, P., & … Marlink, R. (2013). Effect of micronutrient supplementation on disease progression in asymptomatic, antiretroviral-naive, HIV-infected adults in Botswana: a randomized clinical trial. JAMA, 310(20), 2154-2163.
Di Bella, S., Grilli, E., Cataldo, M. A., & Petrosillo, N. (2010). Selenium deficiency and HIV infection. Infectious Disease Reports, 2(2), e18. doi:10.4081/idr.2010.e18.
Durosinmi, M. A., Armistead, H., Akinola, N. O., Onayemi, O., Adediran, I. A., Olasode, O. A., & Muraina, H. A. (2008). Selenium and aspirin in people living with HIV and AIDS in Nigeria. The Nigerian Postgraduate Medical Journal, 15(4), 215-218.
Shor-Posner, G., Miguez, M.J., Pineda, L.M., and Baum, M.K. (2002). Impact of selenium status on the pathogenesis of mycobacterial disease in HIV-1-infected drug users during the era of highly active antiretroviral therapy. Journal of Acquired Immune Deficiency Syndrome, 29:169-73.
The information contained in this review of the available literature is not intended as medical advice and should bot be used as such.