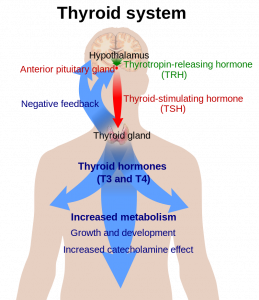 Selenium is an essential micronutrient.  We need only small quantities of it, but we do need selenium as a component of the amino acid selenocysteine.  We need the selenocysteine, in turn, for the body's synthesis of 25 identified selenoproteins that have a variety of biological functions [Bellinger].
The following outcomes are some of the health benefits associated with adequate selenium intake and status [Ventura]:
Reduction of the risk of cancer
Enhancement of thyroid function
Protection against oxidative damage
Enhancement of immune system function
Detoxification and elimination of mercury
Slower progression of HIV infections to AIDS and death
More resistance to opportunistic infections
Selenium and thyroid function
The thyroid is the small butterfly-shaped gland at the base of our necks, just above our breastbones.  For such a small gland, the thyroid gland is very important.  When it is healthy, it produces the hormones that regulate many bodily functions:
the body's metabolism rate
the body's heart function
the functioning of the digestive system
the body's muscle control
the brain's development
the maintenance of good bone health
Diseases inhibiting thyroid gland function
The most prevalent diseases of the thyroid gland are the following [Iddah]:
goiter and thyroid nodules
hyperthyroidism
hypothyroidism
autoimmune thyroiditis
cancer tumors
The role of selenium in normal and abnormal thyroid function
Selenium is more densely concentrated in the thyroid gland than in any other tissue in the body [Ventura].
Selenium is so important to thyroid function that the body preferentially distributes selenium to the thyroid and preferentially expresses the thyroid selenoproteins [Schomburg].
Consequently, the thyroid gland manages to maintain a high selenium status even during times of low selenium intakes [Schmutzler].
Eleven selenoproteins are expressed that protect the thyroid gland against damage by harmful radicals that are produced during the biosynthesis of thyroid hormone [Schmutzler].
Low selenium status is associated with increased risk of goiters (= enlargements of the thyroid gland) and thyroid nodules (= lumps in the thyroid gland, some of which are malignant) [Schomburg].
Evidence from some clinical studies indicates that individuals with low baseline selenium status diagnosed with autoimmune thyroid disease may benefit from selenium supplementation [Schomburg].
Selenium supplementation may reduce the extent of the damage to cells caused by the binding of lymphocytes and/or thyroid auto-antigens to thyroid cell membranes [Schomburg].
Selenium supplementation and autoimmune thyroid diseases
A 2017 comprehensive review of the bio-medical literature on selenium and thyroid disease suggests that selenium supplementation of patients with autoimmune thyroid diseases is associated with the following beneficial health effects [Ventura]:
reductions in anti-thyroperoxidase antibody concentrations
improved thyroid ultrasound images
improved quality of life
Note: The thyroid peroxidase enzymes play an important role in the production of thyroid hormones.  In autoimmune diseases, the body mistakenly produces antibodies that attack these important enzymes.  Adequate selenium status seems to reduce the risk of these mistaken autoimmune attacks.
Moreover, the literature review showed that selenium supplementation in cases of Graves' orbitopathy (an inflammatory autoimmune thyroid eye disease) is associated with improved quality of life, better eye involvement, and delayed progression of ocular disorders [Ventura].
The organic high-selenium yeast form seems to be the most appropriate formulation for supplementation and prevention or treatment of thyroid disease [Ventura].
Selenium supplementation and Hashimoto's disease
Hashimoto's disease is an autoimmune disease in which the immune system's T-cells mistakenly attack the thyroid gland, especially the thyroid peroxidase enzymes.  Hashimoto's disease causes the following symptoms in the thyroid gland:
chronic inflammation
damage to the thyroid tissue
reduced thyroid activity (hypothyroidism)
A 2014 Cochrane review of clinical studies involving selenium supplementation in addition to levothyroxine T4 hormone replacement therapy showed that the selenium supplementation is associated with a reduction in the concentrations of circulating auto-antibodies [van Zuuren].
At present, we are awaiting the outcome of the CATALYST randomized controlled study.  The study is designed to test the hypothesis that a 12-month daily intervention with 200 micrograms of a selenium-enriched yeast will be beneficial in the treatment of chronic autoimmune thyroiditis.  The primary outcome measured in the study is the thyroid-related quality of life assessed by the Thyroid Patient-Reported Outcome (ThyPRO) questionnaire [Winther].
Selenium supplementation and Graves' disease
In cases of autoimmune hyperthyroidism caused by Graves' disease, such symptoms as rapid heartbeat, weight loss, and mental disturbances (including anxiety and depression) are common.  A 2015 study has shown that daily supplementation with 200 micrograms of selenium can improve the immune system responses, the hormone levels, and the symptoms of patients [Calissendorf].
A 2011 randomized controlled study has shown found that selenium supplementation improves the well-being of patients affected by Graves' disease, an autoimmune thyroid disease leading to excessively high thyroid activity [ Marcocci].
The GRASS study now in progress [Watt] has been designed to test the hypothesis that selenium supplementation in addition to standard treatment will have beneficial effects on autoimmune hypothyroidism in the following ways:
decrease in anti-thyroid drug treatment failure
faster and longer lasting remission
improved quality of life for patients
Summary of selenium and autoimmune thyroid disease literature
What do we know about selenium supplementation and autoimmune thyroid disease [Winther 2017]?
Low dietary selenium intake is associated with increased prevalence of autoimmune thyroid diseases in patients.
Selenium supplementation decreases circulating thyroid auto-antibodies in patients with autoimmune thyroiditis.
Selenium's modulation of immune system response may involve reduced release of inflammatory cytokines.
More research is needed into the effects of selenium supplementation on the restoration of normal thyroid function and on patients' quality of life.
Sources
Bellinger, F. P., Raman, A. V., Reeves, M. A., & Berry, M. J. (2009). Regulation and function of selenoproteins in human disease. The Biochemical Journal, 422(1), 11-22. doi:10.1042/BJ20090219
Calissendorff, J., Mikulski, E., Larsen, E. H., & Möller, M. (2015). A Prospective Investigation of Graves' Disease and Selenium: Thyroid Hormones, Auto-Antibodies and Self-Rated Symptoms. European Thyroid Journal, 4(2), 93-98. doi:10.1159/000381768
Iddah, M. A. & Macharia, B. N.  (2013). Autoimmune thyroid disorders. ISRN Endocrinol. 2013; 2013: 509764. doi:  10.1155/2013/509764
Marcocci, C., Kahaly, G.J., Krassas, G.E., et al. (2011). Selenium and the course of mild Graves' orbitopathy. N Engl J Med., 364(20):1920-1931.
Schomburg, L. (2011). Selenium, selenoproteins and the thyroid gland: interactions in health and disease. Nat Rev Endocrinol., Oct 18;8(3):160-71. doi: 10.1038/nrendo.2011.174.
Schmutzler, C., Mentrup, B., Schomburg, L., Hoang-Vu, C., Herzog, V., & Köhrle, J. (2007).  Biol Chem., 388(10):1053-9.
Van Zuuren, E.J., Albusta, A.Y., Fedorowicz, Z., Carter, B., Pijl, H.  (2014). Selenium supplementation for Hashimoto's thyroiditis: summary of a Cochrane systematic review. Eur Thyroid J. 2014;3(1):25-31.
Ventura, M., Melo, M., & Carrilho, F.  (2017).  Selenium and thyroid disease: from pathophysiology to treatment.  Int J Endocrinol., 7: Article ID 1297658: 1-9.
doi.org/10.1155/2017/1297658
Watt, T., Cramon, P., Bjorner, J. B., Bonnema, S. J., Feldt-Rasmussen, U., Gluud, C., & … Rasmussen, A. K. (2013). Selenium supplementation for patients with Graves' hyperthyroidism (the GRASS trial): study protocol for a randomized controlled trial. Trials, 14119. doi:10.1186/1745-6215-14-119
Wichman, J., Winther, K. H., Bonnema, S. J., & Hegedüs, L. (2016). Selenium Supplementation Significantly Reduces Thyroid Autoantibody Levels in Patients with Chronic Autoimmune Thyroiditis: A Systematic Review and Meta-Analysis. Thyroid, 26(12), 1681-1692.
Winther, K. H., Watt, T., Bjørner, J. B., Cramon, P., Feldt-Rasmussen, U., Gluud, C., & … Bonnema, S. J. (2014). The chronic autoimmune thyroiditis quality of life selenium trial (CATALYST): study protocol for a randomized controlled trial. Trials, 15115. doi:10.1186/1745-6215-15-115
Winther, K. H., Bonnema, S. J., Cold, F., Debrabant, B., Nybo, M., Cold, S., & Hegedüs, L. (2015). Does selenium supplementation affect thyroid function? Results from a randomized, controlled, double-blinded trial in a Danish population. European Journal of Endocrinology, 172(6), 657-667. doi:10.1530/EJE-15-0069
The information presented in this review article is not intended as medical advice and should not be construed as such.